Die Welcome to the Club 28 kommt mit ihrer Tracklist um die Ecke und ist in allen Download-Shops und im Handel ab dem 5. Juli 2013 verfügbar. Sunshine Live Top-DJ Klubbingman präsentiert im Juli pünktlich zum Sommer 2013 den perfekten Sound aus Dance, Festival Sound und Euro House!
Mit der nun inzwischen 28ten Ausgabe von DJ Klubbingmans DJ Mix-Compilation erscheint eine weitere Doppel-CD mit den absolut besten und neuesten Tracks aus seiner erfolgreichen Radio Show und Live-Tour, die inzwischen seit vielen Jahren erfolgreich stattfindet!
"Welcome To The Club" ist nun seit über 15 Jahren die erfolgreichste Radio-Dance-Show Deutschlands (jeden Dienstag von 19 bis 23 Uhr) beim Dance-Sender Nr.1, Radio Sunshine-Live aus Baden-Württemberg, der über UKW, Internet, Kabel & Satellit, die Klubbingman Fans in der gesamten Republik und auch im Ausland begeistert und sie auf den neuesten Stand in Sachen elektronischer Musik bringt. DJ Klubbingman moderiert die Sendung bereits im 16. Jahr und präsentiert jetzt das brandneue DJ Mix-Album "Welcome To The Club 28" mit den besten Dance-, Euro House- & Festival-Tracks.
WTTC tourt auch dieses Jahr wieder durch die Top-Diskotheken der Republik und hat seine Sommer Residenz in Mallorcas TOP-Diskothek Riu Palace ausgebaut und ist weiterhin jeden Dienstagabend live on Air auf Sunshine Live.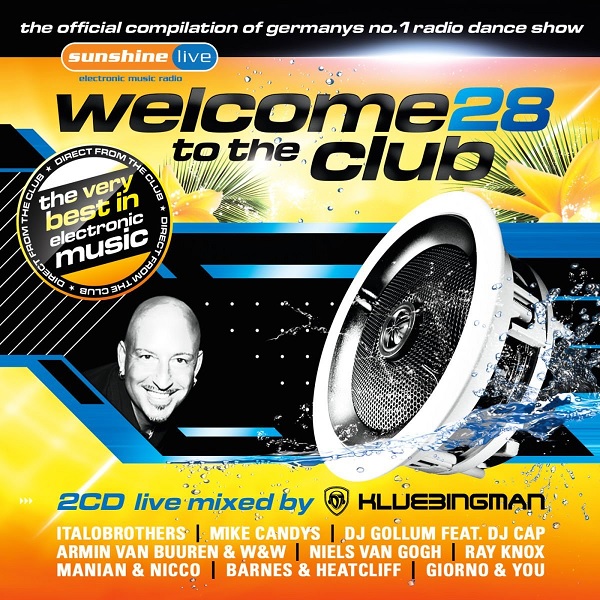 CD1:
01. DJ Klubbingman – The Rings of Saturn (Intro)
02. Topmodelz – Love U More (Classic Mix)
03. DJ Decron Meets Stephanie Ka – Take Me Away (Club Turner Remix)
04. Ray Knox – Dancing For My Life (Ti-Mo Remix)
05. DJ THT vs. Angel Lyne – Out Of My Mind
06. Tomtrax – Mono 2 Stereo (Empyre One Remix)
07. DJ Fait – Go Your Own Way
08. Mike Nero – The Weekend Starts Tonight (Classic Club Mix)
09. Crystal Rock – Beacause I Love You (Kris McTwain Bootleg Mix)
10. Dan Winter vs. Basslovers United – Girlfriend (Dan Winter Mix)
11. Clubbicket – Sunshine 2.0 (DJ Fait Remix)
12. Manian & Nicco – Tonight (Alex Megane New Dance Mix)
13. Cherimoya – Thinking Of You (Comeea Mix)
14. DJ Roxx – There Is A Star (DJ THT Remix)
15. Alex M. – Greatest DJ (Danceboy Remix)
16. DJ Gollum feat. DJ Cap – Good Stuff
17. Starjack – Amazing Music (Gollum vs. Emypre One Remix)
18. Giorno & You – The Feeling (Crystal Lake Remix)
19. Bass Inferno Inc. – So Real
CD2:
01. DJ Klubbingman – Orbital Resonance (Intro)
02. Italobrothers – This Is Nightlife (DJ Gollum Remix)
03. Otto Le Blanc & Alain Prideux – Loco (Gordon & Doyle Funky Trumpet Mix)
04. Mike Candys – Oh, Oh
05. Rightless – You're The One
06. Barnes & Heatcliff feat. Chris Madin – Neon Light
07. Nick Corline feat. Nuthin' Under A Million – Touch The Stars
08. G&G – Use Somebody (Davis Redfield Remix)
09. Justin Vito feat. Nicole Tyler – So Real
10. Just Mike – Capo (Bodybangers Remix)
11. Bernasconi & Jordy feat. Gloster & Lira – Caesars Melody
12. Jim Noize – Rock & Move (Ron Collins Remix)
13. Armin Van Burren & W&W – D# Fat
14. Niels van Gogh – Jump
15. Ferry Corsten – Black Light
16. Selecta & Sanny – Drums
17. Wolfpack feat. Coco Star – Mirical (Dimitri Vegas & Like Mike Remix)
18. Daddy's Groove – Stellar
19. Tujamo & Plastic Funk – Who
20. David Jones & DJ Falk – House Of God (David Jones Mix)