Mit der Compilation " Fiesta " reagiert Ministry of Sound auf die Fußball-WM. In der Tracklist dieser Compilation findet ihr jede Menge Latin House Tracks, die sich perfekt in den derzeitigen Brasilien im Musikbereich einfügen. Mit diesem Sound kann man die WM sicherlich besser ertragen, als mit irgendwelchen seltsamen WM-Hits.
Derzeit scheint Ministry of Sound auch wieder richtig Gas zu geben, denn im Moment folgt dort eine Compilation nach der andere. Erst vor einigen Tagen hatten wir euch die Ibiza Annual 2014 vorgstellt, die ebenfalls aus dem Hause Ministry of Sound stammt.
Wer also passende der Musik zur WM haben möchte, sollte sich die " Fiesta " zulegen, bereits ab nächste Woche, dem 4 Juli 2014 liegt dieser Sampler für euch im Handel bereit. Nun bleibt uns also nicht viel mehr, als euch das Cover und die Tracklist zur Compilation zu bieten.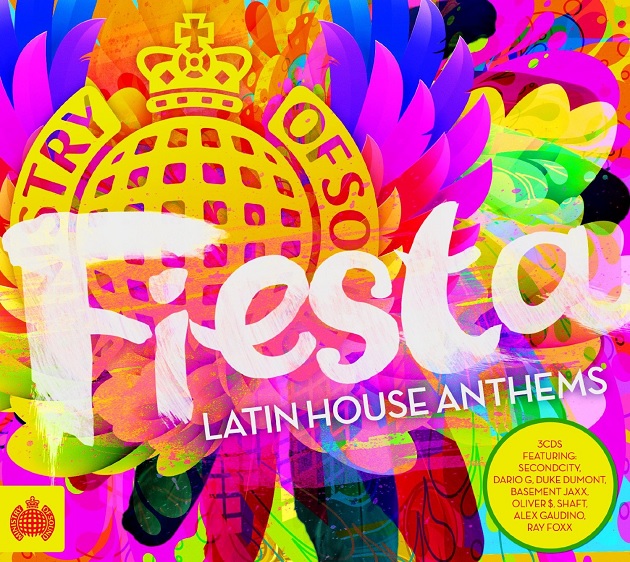 Disk: 1
1. Secondcity – I Wanna Feel
2. Ray Foxx Feat. Rachel K Collier – Boom Boom (Heartbeat)
3. Duke Dumont Feat. Jax Jones – I Got U
4. FCL – It's You MK Mix
5. Klangkarussell Feat. Will Heard – Sonnentanz (Sun Don't Shine)
6. Gorgon City Feat. MNEK – Ready For Your Love
7. Storm Queen – Look Right Through MK Vocal Edit
8. MK Feat. Alana – Always MK Area 10 Remix
9. Dennis Ferrer – Hey Hey DF's Attention Vocal Mix
10. Tensnake Feat. Nile Rodgers & Fiora – Love Sublime
11. Oliver $ & Jimi Jules – Pushing On Dub
12. The Good Men – Give It Up
13. Incognito Feat. Jocelyn Brown – Always There
14. Steve Angello & AN21 – Valodja
15. Blaze Feat. Barbara Tucker – Most Precious Love DF Future 3000 Mix
16. Lee Cabrera – Shake It (Move A Little Closer)
17. Nina Simone & Felix Da Housecat – Sinnerman Felix Da Housecat's Heavenly House Mix
18. Masters At Work Presents India – To Be In Love (Full Intention Vocal)
19. Crystal Waters – Gypsy Woman (La Da Dee La Da Da)
20. Round Table Knights – Calypso
Disk: 2
1. DJ Fresh Vs TC – Make U Bounce Radio Edit
2. Alex Gaudino Feat. Crystal Waters – Destination Calabria
3. Lucenzo & Qwote Feat. Pitbull – Danza Kuduro (Throw Your Hands Up) UK Dancar Kuduro Edit
4. Sergio Mendes Feat. The Black Eyed Peas – Mas Que Nada Masters At Work Remix
5. Marco Calliari – We No Speak Americano Montreal House Mafia Remix
6. Jennifer Lopez – On The Floor
7. Pitbull – I Know You Want Me (Calle Ocho) More English Radio Edit
8. Sidney Samson Feat. Wizard Sleeve – Riverside (Lets Go!)
9. Paul Johnson – Get Get Down
10. Chocolate Puma – I Wanna Be U
11. Ruff Driverz – Dreaming
12. Inner City – Good Life (Buena Vida) Tommy Onyx's Summer Fiesta Radio Mix
13. Tensnake – Coma Cat
14. Fish Go Deep Feat. Tracey K – The Cure & The Cause
15. Mark Knight & Funkagenda – Man With The Red Face
16. Eric Prydz – Pjanoo
17. Tom Wax & Strobe – Crushed James Talk Remix
18. Soul Central – Strings Of Life Danny Krivit Re Edit
19. Joey Negro – Make A Move On Me
20. Robin S. – Show Me Love Stone's Radio Edit
Disk: 3
1. Bellini – Samba De Janeiro
2. Basement Jaxx – Bingo Bango
3. Afro Medusa – Pasilda Knee Deep Club Mix
4. Dario G – Sunchyme
5. Shaft – (Mucho Mambo) Sway
6. Mighty Dub Katz – Magic Carpet Ride Son Of Wilmot Mix
7. Junior Jack – E Samba
8. Ray Foxx – The Trumpeter
9. ATFC – I Called U (The Conversation) ATFC s Heated Conversation
10. Salif Keita & Martin Solveig – Madan Exotic Disco Mix
11. Lauer & Canard – Doo Bop
12. Ronaldo's Revenge – Ronaldo's Revenge (Mas Que Mancada)
13. River Ocean Feat. India – Love & Happiness (Yemaya Y Ochùn) Sao Benitez Sun Set Mix
14. Everything But The Girl – Corcovado Knee Deep Remix / Ben Watt Vocal Re-Edit
15. Roger Sanchez – Another Chance
16. G Club Presents Banda Sonora – Guitarra G G Club Original Mix
17. Olav Basoski – Puerto Rico
18. DJ Pippi Presents 'Pasion Flamenca' – Fatal Fatal Pacha Mix
19. Grant Nelson – Spellbound
20. Todd Terry & House Of Gypsies – Samba Matteo DiMarr's Old School Meets New School Remix